By Sharyn L. Decker
Lewis County Sirens news reporter
CHEHALIS – There's almost nothing better than sitting around a campfire, but officials are worried that forests on both sides of the state are more more vulnerable than usual this weekend to catastrophe.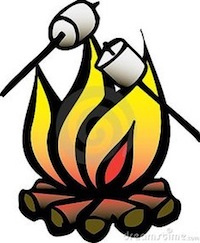 In Western Washington, the snowpack is a fraction of normal, and much of Eastern Washington has endured years of persistent drought, according to the state Department of Natural Resources.
DNR urges everyone to be careful and please help prevent wildland fires over the upcoming Memorial Day weekend and throughout the summer.
Simple steps to do your part include: before leaving home, check to find out what the campfire restrictions are for the area you plan to visit.
And then, authorities advise:
If campfires are allowed; extinguish them properly before leaving:
• Never leave a campfire unattended at any time.
• Drown fire thoroughly with water.
• Stir until cold.
• Drown fire again and stir.
• Never leave a campfire until it is completely out and cool to the touch.
Already this year, the state agency has responded to 124 wildland fires.
Stay connected during the wildfire season through DNR's Twitter at http://twitter.com/waDNR_fire