VANDALISM
• Centralia police were called about 9:40 a.m. yesterday to the 2400 block of Ford Prairie Avenue regarding damage to a residence and property. A possible suspect was identified, according to the Centralia Police Department.
THOSE CENTRALIA COPS ARE SO FUNNY
• The Centralia Police Department is hosting its first ever 5K Ugly Sweater Fun Run next month, an event in which participants don't necessarily need to be able to run, jog or even walk fast. Judges throughout the crowd will pick out the ugliest sweater, awarding the wearer of the winning garment a scenic Seattle flight for two on Kenmore Air plus a $50 dinner credit for two in Seattle.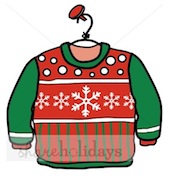 All proceeds will support Lewis County Special Olympics athletes. It takes place on Saturday Dec. 13 at 5 p.m., with registration starting at 3 p.m. at Washington Park on South Pearl and Main street in Centralia. The entry fee of $30 includes a T-shirt. Entrants can pay $20 and forego the T-shirt. For those whose closets contain only pretty sweaters, but still want to support the cause, a Pluck-a-Duck Raffle will take place before the race. Purchase a rubber duck for $10, and if yours is the one plucked from the pool, you'll get half the proceeds of the raffle. Registration forms are available on the Centralia Police Department Facebook page and at the office. Race day registration is available; however they cannot guarantee t-shirts. The department is currently looking for sponsors for the run. A $100 sponsor donation received by December 7 will guarantee a business name or logo on the back of the run t-shirt.
AND MORE
• And as usual, other incidents such as arrests for warrant, driving under the influence … and more.