By Sharyn  L. Decker
Lewis County Sirens news reporter
As the rainfall intensifies and a flood warning is issued for the Skokomish River in Mason County, Lewis County Sheriff Steve Mansfield suggests folks here prepare for the season now, ahead of any local events.
Historically, the flood season in Lewis County stretches from November until March, according to Mansfield.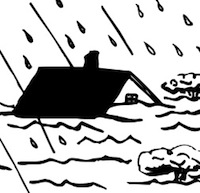 While Lewis County is not in the anticipated impact area today, it's a good time to review safety information, he says.
The sheriff urges members of the public to sign up now for the  Lewis County Emergency Notification system, CodeRED. Once registered, you would receive any emergency action notifications directly to your cell phone or home telephone, according to Mansfield.
He advises people who live near a flood plain to purchase flood insurance.
Because most deaths from floods come from driving or walking through floodwaters, the sheriff reminds drivers that just one foot of water can float most vehicles.
Mansfield is the director of the Lewis County Division of Emergency Management. Chief Civil Deputy Stacy Brown is the interim deputy director.
Mansfield says: If you live in an area where floods occur, you should know the following:
BEFORE A FLOOD
• Prepare your home, family, pets and livestock with at least a three to five day emergency supply kit, including medications and some cash. Information on what to include can be obtained from Lewis County Emergency Management at (360) 740-1151 or on the sheriff's website at www.lewiscountywa.gov/sheriff
• Provide at least one plug-in-the wall telephone for emergency calls if the power is out.
• Plan for evacuation including what route you will take and when you should leave.
• Learn how to purify water. If you have a well, learn how to decontaminate it.
• Keep your car full of gas.
• Listen to your radio or television for reports of flood danger. Current Lewis County "River Readings" and "Road Closures" are posted on the county's website at: www.lewiscountywa.gov
• Keep all insurance policies and a list of valuable items in a safe place.
DURING THE FLOOD
• Stay away from moving water. Do not walk or drive through flooded areas. Wash your hands frequently with soap and clean water if you come in contract with floodwater.
• Stay away from downed power lines
• Stay away from disaster areas unless authorities ask for volunteers.
• Continue to listen to your radio or television for reports of flood danger.
• Call 9-1-1 only in life threatening emergencies. Limit personal calls to keep the lines clear for emergency calls.
AFTER THE FLOOD
• Wear gloves and boots when cleaning up.
• Open all doors and windows. Use fans if possible to air out the building.
• Wash all clothes and linens in hot water.
• Discard mattresses and stuffed furniture; they can't be adequately cleaned.
• Disinfect by wiping surfaces with a solution of one cup bleach per gallon of water. Wash dirt and mud from walls, counters and hard surface floors with soap and water.
• Discard all food that has come into contract with floodwater. Canned food is alright, but thoroughly wash the can before opening.
•••
Lewis County Sirens.com has two valuable links, always available on the right hand side bar, with the latest official information for your area from the National Weather Service.
• "Weather alerts, forecasts": where you can check your particular location, and watch the coming weather, as well as see any weather-related alerts issued for your area
• "River levels": where you can monitor a river in your area, and see how high it is rising and is expected to rise during rain events.